Post by rainbowfish on Feb 10, 2016 12:41:23 GMT -6
Making a Mop for Breeding Rainbowfish By G. W. Lange
I wrote this article about seven years ago in response to some cichlid people who were asking what a mop was. It was a little of my getting back for all of those years of hearing about "those feeder fish" when cichlid people talk about rainbowfish, killifish and livebearers. No, we're not even close to even yet on the payback :-). It will help you through the basics of making your own mop for breeding rainbowfish & killifish though.
Mops are great for spawning killifish and other mop spawning fish and ESPECIALLY for our favourites, the rainbowfish. Mops are also very easy to make. If you have kept only cichlids in the past then I suggest that you read this article three times. Ask someone to help you with the big words :-). First gather the items you will need to make a mop (see photo #1).
Start with the Aqualog book on rainbowfish. It's a nice picture book and once you start looking at all of the wonderful rainbowfish available you'll be hooked. This book is just the right size to make mops that will work in a 20 gallon high if you use the long end of the book for wrapping. If you use the short side of the book you'll make a mop that's great for a 10 gallon tank. I like to make my mops so they just miss touching the bottom of the tanks. Mops that touch the bottom of the tanks tend to collect the gunk or uneaten food on the bottom and then possible foul the eggs. For other sized tanks you'll have to go to your bookshelf and pick out an appropriate sized book for the height of your tank.
Go buy several skeins of yarn. Guys aren't supposed to know what a skein is, perhaps a stein though. We'll get back to the stein part later. The lady at the craft shop, for me, it's Michaels, told me that's what they are called. Anyway pick up a few. Don't get wool, as it rots and I would avoid that really frilly type yarn too. That type of yarn, that has a lot of hairs coming out of it, leave it alone! It looks like something to eat to your rainbowfish. They will eat a little of the regular mops anyway but if it's not too hairy and you're feeding them regular they won't eat too much. Remember rainbowfish are graceful, and fast and oh so beautiful, but they are not smart! Note the picture of the two types of acrylic yarn that you can buy. Caron yarn floats at the top of the water no matter how much you soak in hot water, don't use it. Red Heart Super Saver works great.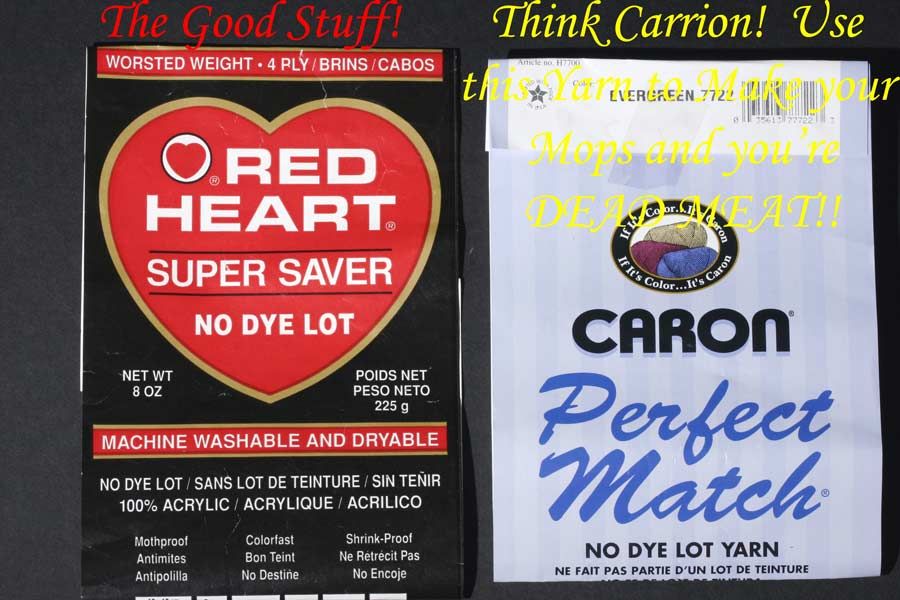 But let's get back to the yarn. What color you ask? I like Forest Green and another one that is a brighter green for making my mops. To me it looks a bit more natural. I've heard some people switching off colours for problem rainbows and trying dark brown or even red. So try a few if you want. You'll also need a good sharp pair of scissors. Cut a piece of yarn about 14 inches or so in length and stick most of it in the book (see photo #2).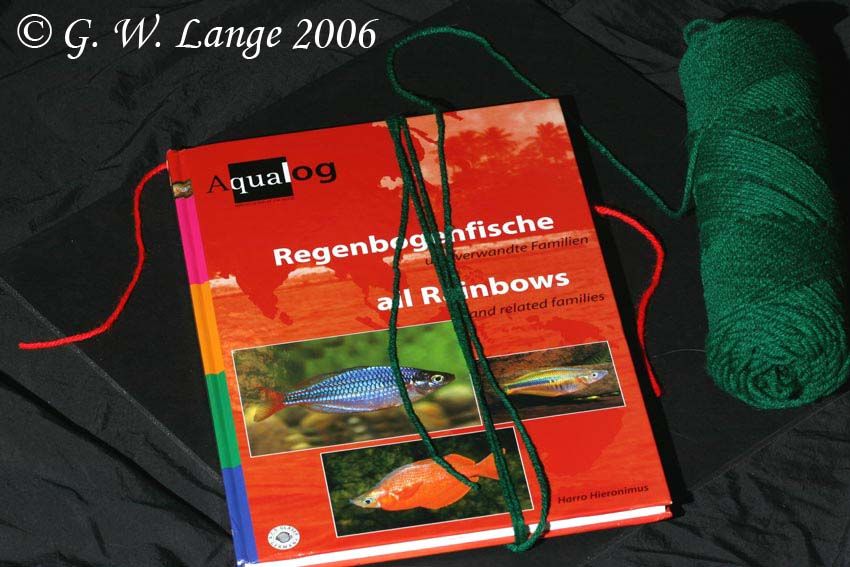 This piece of yarn will be perpendicular to the yarn that you will wrap around the book. This is the piece of yarn that you will use to tie all of the strands together and perhaps use to tie a Styrofoam float.
Now comes the fun part. You get to wrap yarn around the book for endless revolutions! I myself use about 70 but there are many people that use up to 100. I am too frugal (ok cheap) to do this, however an overly big mop also makes it harder to find eggs. Not enough wraps around the book though and you'll have a mop where the parents can find the eggs easily too and eat them. This is the part where the stein comes in handy. A stein of beer or even a can of beer at your side is handy because this is boring. You can do this while watching a movie, but don't try to have a meaningful conversation with your significant other as you are also trying to count out 60 wraps around the book. Now this suggestion should be, have a beer or two only. If you have a lot of yarn and are making a lot of mops it can take a long time to finish. For me, after five beers, I have difficulty counting so I just leave it at two beers. Better wait until tomorrow to make more mops if you get that bored! Another good technique, if you have kids, is to convince them that making mops is really a heck of a lot of fun. Actually the most fun you can have in life, except for making kids! And you don't have to tell them about the making kids part. Remember Tom Sawyer and the whitewashed fence, so work it! If you have friends that are desperate for some eggs of your rainbowfish you can have them make 3 or 4 mops for each mop of eggs you give them. Hey, I'm teaching frugal here so if you can get more mops out of them go for it!
So now you have the yarn wrapped around the book the required number of revolutions. Use the string that is stuck in the book to tie all of the strands together at the top. At the end opposite of where you just tied the strands together, cut it with the scissors (see photo #3).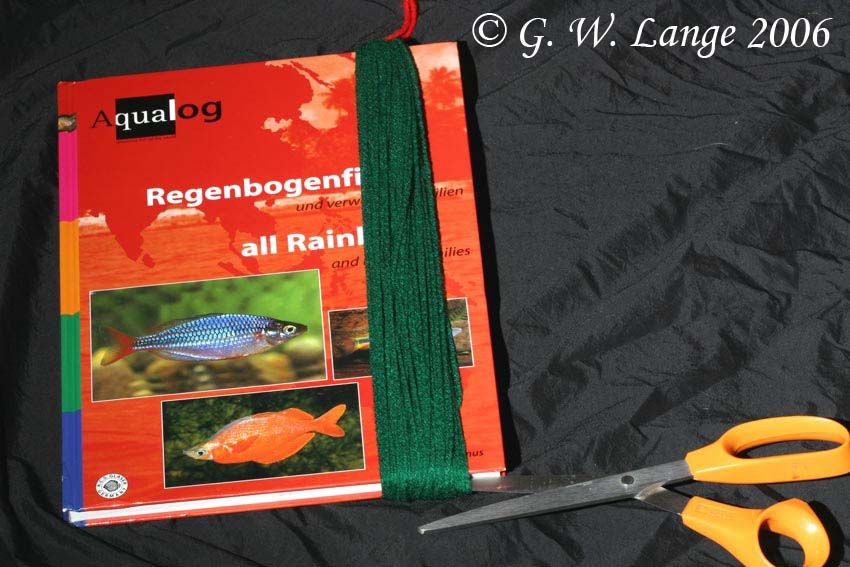 If you wrapped 60 times around the book you will now have a mop with 120 strands in it. I like my mops neat so I use a second strand of yarn to make a little top knot, just about an inch below where the yarn strands are tied together (see photo #4).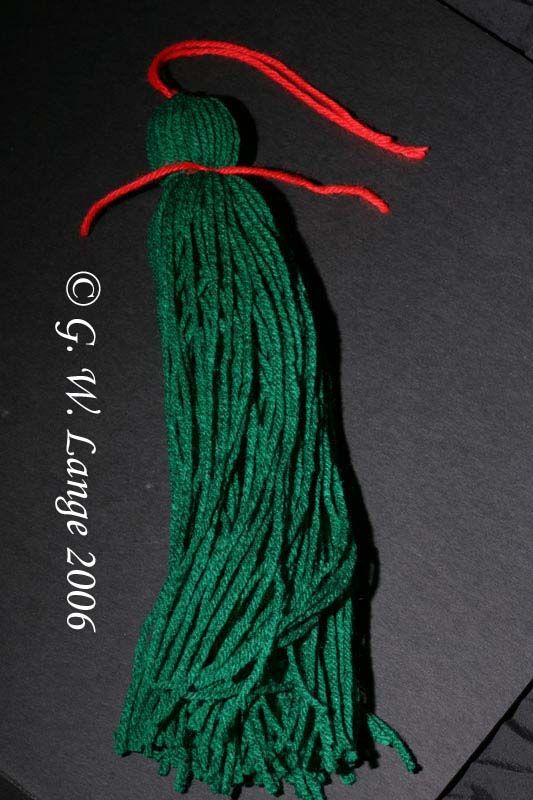 If it's going to be a floating mop then I tie on a piece of 1.5" x 1" x 1" Styrofoam to the top of the mop (see photo #5).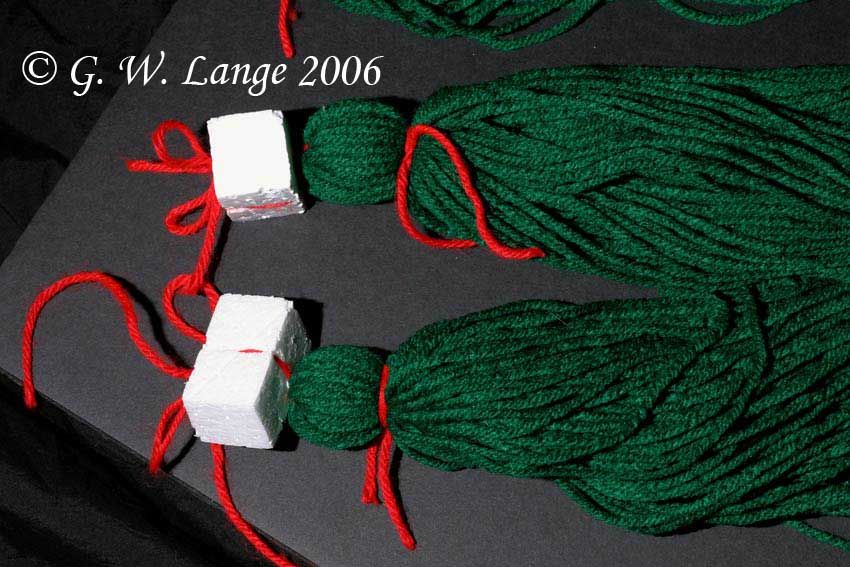 Use a sharp razorblade so you don't leave any tiny Styrofoam chunks on the edges. Remember, we are dealing with the Jessica Simpson of fishes here and Styrofoam sometimes resembles fish food! Just keep wrapping and counting and soon you'll have a lot of mops. Don't forget to do both size mops if you are using both sized tanks for breeding (see photo #6).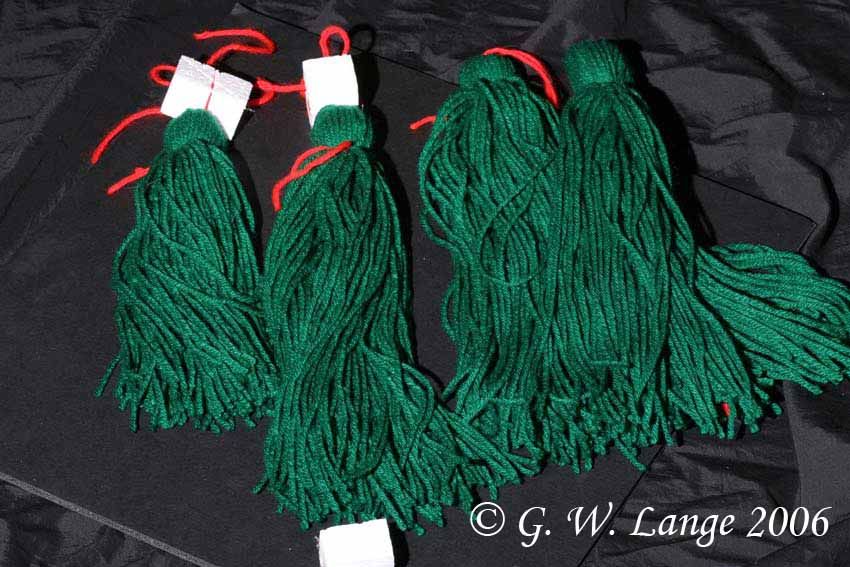 Finally once I have all of my mops made I'll stick them in one of my fish buckets and fill the bucket up with scalding hot water. This helps to pull out any dyes that might leach out of the mop and into your aquarium. Most of the modern yarns leach very little but this is an easy step to avoid any problems. After rinsing them out I hang them to dry somewhere in the fishroom, bathtub, anyplace where you won't get yelled at. If you are using it right away, no need to dry just pop it in the tank. You may still have to squeeze it a dozen times or so to get all of the air out so that the strands are hanging down in the water and not floating at the surface. Pop the dry mops into a bag for safekeeping or start adding them to all of those breeder tanks. The best thing about breeding mops is that, if you don't give them away you can use them over and over again. I just pull out any plant material that happens to get tangled in the mop, give them a good rinsing and give them another soak in scalding hot water before reusing them. Make yourself a mop and soon you'll be breeding your rainbowfish like a "bowhead" pro. Ok, cichlid people, go back and reread the article again. See if you can Google Tom Sawyer, get someone to cut the Styrofoam chunks for you……:-)
[/size]